In the second half of the eighties and throughout the nineties, I was a bass guitarist in various indie rock bands.
Interested in early analogue and digital synths and owner some early 8 and 16bit computers (with and w/o MIDI), this obviously led to a mix of electronic and indie rock  elements I believe my music still consists of.
Discography
Mars Yard (2019), single
Not At All (2018), LP
I had to let God be in control of ALL things (2012), LP
A joint electro-acoustic project with Bernd Wilberg and lots of guest musicians (the track above sung by Michael Cramm), recorded between 2002 and 2004, but for whatever reason released only in 2008).
Treme (Demo, 2003) – with Bernd Wilberg

This track has been recorded as part of a concept album in 2003. Neither the track nor the album were released. Guest musicians were Harald "Sack" Ziegler (French Horn), Heike Hoheluechter (viola) and Dierk Duechting (drums).
mp3 Download (3.7 MB)
6komma5bg (contribution to Oneonone CD compilation, Emphase Records, 2002)

(…)
Superuser (2001) – with Bernd Wilberg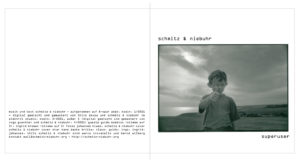 Formanz mp3 Download [128 kbit/s, 7:57 Min., 7.4 MB]
Eperon mp3 Download [128 kbit/s, 7:12 Min., 6.6 MB ]
Orturla (Resümee) mp3 Download [128 kbit/s, 5:44 Min., 5.3 MB]
Ripchip (M) mp3 Download [128 kbit/s, 7:44 Min., 7.2 MB]
Genida (Wie wir zum Ende fanden) mp3 Download [128 kbit/s, 8:06 Min., 7.5 MB]